We have 3 options for sharing dashboards:
Public dashboards
Guest user access
Embedding Trevor dashboards in your app
Public dashboards
To share a dashboard, simply:
Click the 'Share' button in the top right of that dashboard.
Click the 'Private' toggle that appears.
In the modal, copy the share link.
Share the link!
Dashboards are private by default.
Public dashboards can be toggled back to private at any time.
You can also embed dashboards in other tools, e.g. Notion - check out our guide here.
Note: filters are not available on public dashboards
Guest user access
You can invite colleagues or external users as guests to view dashboards. They will be able to use the filters you have on the dashboard and they can schedule dashboard delivery via email/Slack. They will not be able to edit the dashboard, access the underlying queries, or invite other guests.
To invite a guest:
Click the 'Share' button in the top right of that dashboard.
In the text box under 'Invite guests' enter the email of the user you would like to invite.
Click 'send invitation'

.

All done! Your guest will receive an email shortly with the instructions to access the dashboard.
Embedding Trevor dashboards in your app
The "Embedded dashboards" feature in Trevor enables you to build beautiful interactive dashboards for your customers with no code!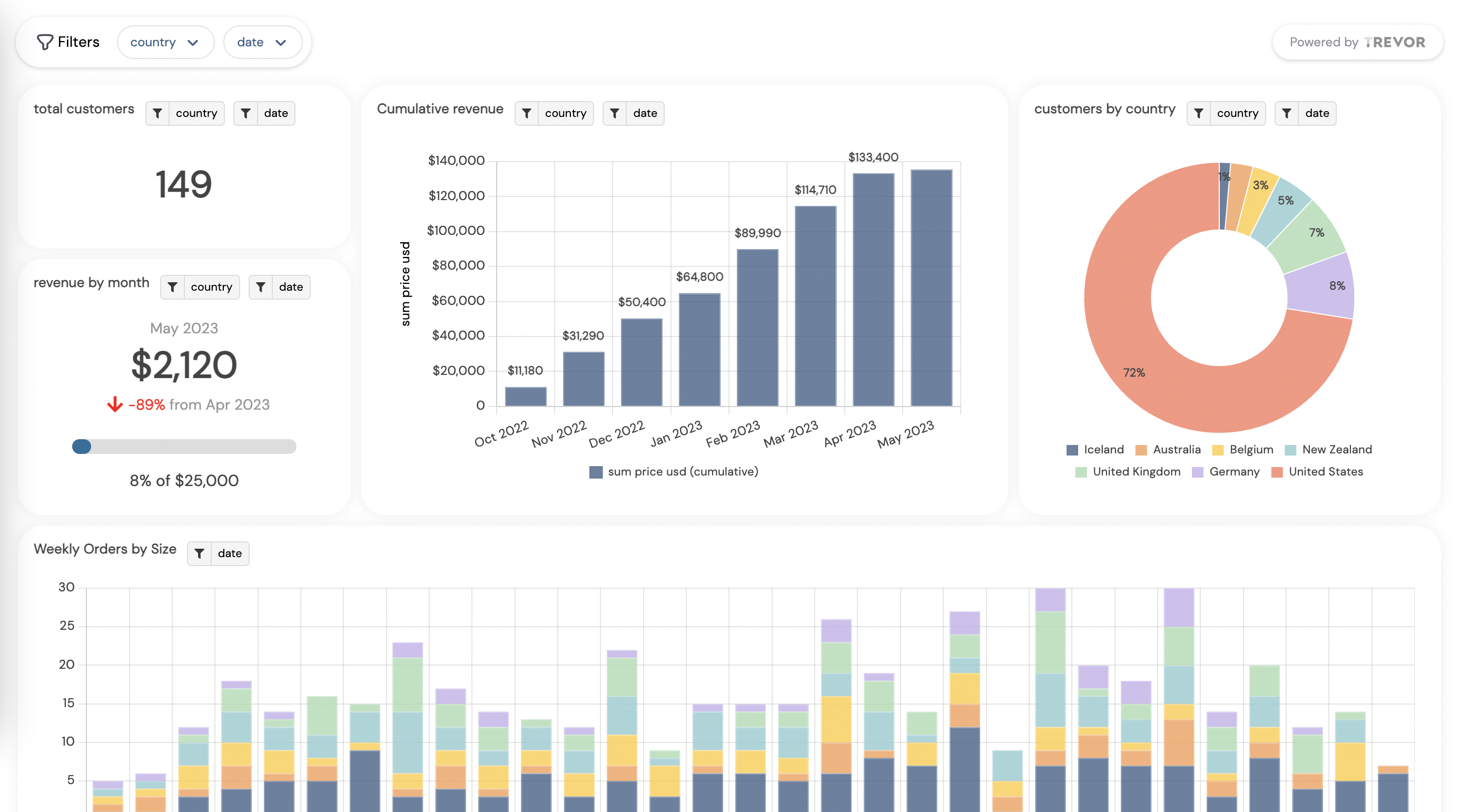 You can build, deploy and iterate fast on your dashboards with minimal engineering effort:
Your team can build and iterate on a dashboard using our no-code query builder (or use SQL if they prefer).
Your customers will access the dashboard via your web application or platform (they login to your application, not Trevor).
Importantly: your customers will only have access to the dashboards that they should be allowed to access, and those dashboards will be filtered to show only the data relevant to that customer.
An engineer just needs to perform an easy one-off integration and then any Trevor user in your team can do the rest using Trevor's powerful no-code query builder.
Our doc for getting started is here, and our technical documentation is here. If you have any questions, drop us a message on our chat anytime!